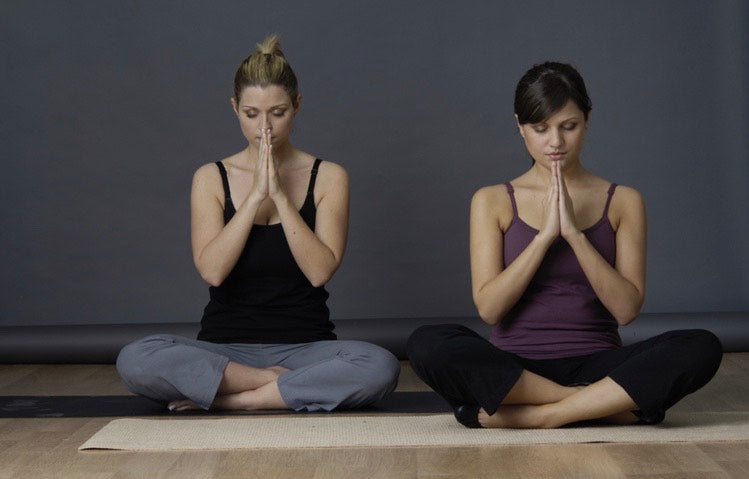 Yoga
Self-Care for New & Expecting Moms During Covid-19
Yoga and meditation!
By Deb Flashenberg
Founder and Director of the Prenatal Yoga Center in NYC, a prenatal yoga teacher, Lamaze childbirth educator, labor support doula and self-proclaimed "birth and anatomy geek". www.prenatalyogacenter.com
What are the benefits of yoga during these challenging Covid19 times?
During any time of unrest and stress, turning back to a yoga practice can be incredibly beneficial. Stress can wreck tremendous havoc on the body, increases blood pressure, puts someone more at risk for heart disease and send adrenalin and cortisol into the body.
Yoga can help relieve stress. The focus on slow deep breathing helps move the body from the "fight and flight" reaction to the "rest and restore" state.
One's yoga practice can also create a sense of schedule and routine. Most people do better with routine to their day.
What are some daily yoga practices to do at home and easy to incorporate with a newborn?
We have all our classes online as livestream classes and rereleases. Knowing that a new parent can't always time their day (and their baby!) to hit a yoga class at a specific time, we offer 24 hour access to the class link. So all the new parent has to do is sign up for that day's class and then watch the class on her own time.
Here is the link for our weekly schedule so new parents can get some yoga time!
What are some daily yoga practices to incorporate when pregnant?
Similar to what I said about our classes aimed at new parents, we have Livestream prenatal yoga classes 7 days a week and we rerelease the morning class twice through the day. This was our way of making the classes "on demand". Students then have a lot of flexibility in when they want to take classes with new classes every day!
How to create mental and physical space in these uncertain times as a new mom?
That is a really good and hard question. Even in the best of times, finding space as a new parent is hard since life because all encompassed by the new baby.
In times like this, it is important to communicate well with whoever is there to support you- your partner, family or friends and ask them to help you make space in your day. It may be simply be to take a nap, a walk or a yoga class. It is so important to find ways to still feel like yourself and remember the person you were before your new baby.
Do you recommend any community online classes for pregnant and new moms?
Community has always been a major piece in our philosophy at PYC. We incorporate community into all our classes by keeping them very conversational and the teacher being very approachable. We start every yoga class with circle time. This is a chance for the students to introduce themselves and share how far along they are as well as tell the teacher what is going on with their body. This helps build camaraderie and get to know each other.
We also have started Coffee chat on Mondays and Fridays on Zoom from 9:15-9:45am. We set this up as a place for people to come and connect and casually chat.
Five Tips for self-care?
Take some time for yourself each day.
Make sure you are sleeping well
Exercise or move each day
Connect with friends
Hydrate!
Mediation at home?
I'll be the first to admit, my personal mediation practice is a bit unconventional. I don't sit down on a pillow for a prescribed amount of time. Instead, I steal quiet moments of inner concentration when I can. Sometimes it's early in the morning before the house starts to wake up. Other times, it's when I am sitting in the bathroom while my kids are i the bath.
I think it can feel daunting for some to set up a formal mediation practice, especially if there are a lot of people around. My advice is start small and build. Whether it be sitting on a mediation cushion or just closing your eyes when nobody else is around.
How to disconnect from the world for a moment?
People have asked me what I get out of teaching and taking yoga. It is always the same answer. Not strength and flexibility. Not grace and coordination. But what I have named my "mental vacation". When I both take class and teach class, it gives me the opportunity to disconnect from everything outside the walls in which I am teaching or practicing. My focus when I teach is on my students and what I am precisely saying to them and how they are moving through the practice. When I practice, I am so focused on exploring how my body is moving in the poses and what I am learning from the teacher. I always come out feeling more grounded and more clear headed. Finding my yoga practice has been one of the greatest gifts of my life.
What can you learn about these practices beyond the pandemic?
Learning to sit with discomfort and know it is going to pass is a valuable life lesson. We talk about that is class in terms of labor as well as the discomforts of early parenthood. It's a lesson I try to teach my kids as they complain they are bored while being kept at home due to social distancing. Yoga has taught me how to raise my threshold of reaction from both mental and physical discomforts and that skill has been very useful during this challenging time of the pandemic.
---
A note from us: Many moms wear our nursing tanks and tops for yoga because of the full built-in structured nursing bra, the comfortable and cooling cotton fabric blend that is of a thicker quality to provides support and control all around.
Our most popular styles are Nursing Bra Full Bust Long Top, Nursing Bra Long Top with Adjustable Chest Band and Nursing Bra Long Tank.