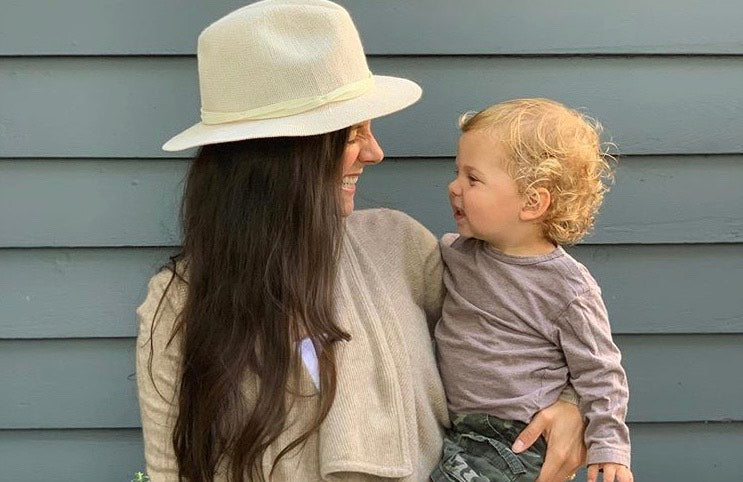 Community support and self-care during Covid-19
We have asked Stephanie Trzaska who is the Founder of Little Scraps of Magic, a nurturing digital community for mamas who have a desire to unlock their potential and creativity, reclaim their fierce power, and honor their motherhood, maintaining deeply connected relationships with their children.
Through  1:1 mentoring and virtual events, Steph helps women find their mama magic. LSOM events are led by female solopreneurs and thought leaders, many of whom are moms as well. Little Scraps of Magic provides space to chat, listen to experts, and seek answers to questions without having to sift through dozens of google searches. Events and classes are educational and inspirational, ranging from baby focused, business-centric, to wellness-related topics.
Steph holds an MA in Montessori Education, a BA in Educational Studies, and an AMI Montessori teaching certification, so she brings a trained, professional perspective to child development-related events and mama mentoring. 
As mama to her sweet and spunky toddler, Bruce, Stephanie is also in the throws of motherhood just like her clients and community, which makes her truly relatable and down to earth. 
What would you suggest for new moms for "socializing" while they are staying home more and not being able to socialize in person much because of Covid-19?
Being a new mom is tough. It's a beautiful, fulfilling, and inspiring time for many, but it can also be isolating, exhausting, and confusing. Postpartum depression is real and can strike at any time, even several months after birth. Throw a pandemic that's preventing many new moms from their support networks, and it makes acclimating to a new life, a new body, and a new rhythm even harder. While physical touch and support is so important, when it's not available, I think video is the next best thing. There are many options out there. A lot of women turn to Instagram, which CAN be so wonderful and easy to use, however, I find it can create some serious comparison anxiety and the connections can often be a bit more passive and surface level.
I love using the app Marco Polo to leave basically video voicemails back and forth with my friends, so we can see each other and stay connected, but on our own timelines.
The digital community I've created, Little Scraps of Magic, is all about creating ways for moms to connect, grow, and learn in an intimate, inviting space. Thought leaders, mama solopreneurs, and experts present on a wide range of topics, ranging from baby-focused, to wellness-centered and beyond.  It's a great way to learn some new info without sifting through google and also to see some friendly adult faces and share some laughs. I think attending a digital event can seem daunting, especially if you've never done it before, and even more so for new moms who are already learning so much, but it's so important to have outlets for communication and support when you're learning how to to take care of a new baby.
https://www.littlescrapsofmagic.com/
I have not attended events hosted by these platforms, but some other places to look for digital mom communities include:
https://www.thryve.ca/thryveblog/category/Motherhood
https://www.kelsiludvigsen.com/gather
What fun, creative project would you suggest for moms to do with smaller children while having a newborn?
Whatever makes your life easier with a newborn is the way to go. I wouldn't stress about being too creative— you don't want to put too much pressure on yourself to perform and please. The biggest advice I have is to include your older child in daily life as much as possible. Finding jobs for him or her to do— handing the wipes for diaper changes, "washing" a bottle in a tub of water, setting the table for a meal. Creating opportunities to empower your other children to be an integral part of your routines will help them to feel loved and needed. Make special time just to snuggle.
If you're feeling compelled to offer some creative art projects, I highly recommend checking out my friend, Melanie's art box subscription— it has monthly art projects with everything you need inside, so less stress for mom!
https://www.mommyandmeartbox.com/
What does your mom online community offer for new moms? Do you host community events?
Little Scraps of Magic offers a virtual space and nurturing network for mamas who wish to be a part of a supportive, engaging, and educational community. Through our digital events, we dive into all of the topics moms want to learn about with informed discussions led by trained, knowledgeable moms and experts who also know how to have some fun. Our events are meant to energize, restore, and inspire. They're special because they're small, intimate groups that allow you to truly be seen. Attendees don't have to actively speak if they don't want, but just by being there, they're acknowledged as the magical warriors that they are.  Throughout our events, there's opportunity to hear from other mamas and to ask your questions and share your own experiences. Little Scraps of Magic is a community that has been designed to create meaningful connections. Motherhood is beautiful, but it can be isolating, confusing, & overwhelming. At LSOM, we hold space for moms to be vulnerable, honest, and unbridled. This is a place for mamas who are craving strong, feminine energy in their lives!
What would be three important acts of self-care in your opinion when time to yourself during the day is limited, taking care of a newborn and with the challenges during Covid-19?
For me, it's all about micro-actions. Finding small bits of time and making the most of them. I think we often look into the future and envision ourselves becoming some perfect version of a mother or boss or employee— we create unrealistic expectations and then feel let down when we don't measure up. Don't set yourself up for that. Start small. Keep it simple. When I was a new mom, my biggest form of self-care was a hot shower. Sounds lame, but it was heavenly and took no thought or prep. I'd just stand under the hot water for as long as I wanted. Another act of self-care I'd recommend is writing. Take 3-5 minutes and just journal. When we become moms, we transform and putting pen to paper is a great way to stay connected to who you once were while you move into this new space. It reminds you that while you're so connected to this baby and this new life, you have your own brain soul, heart, and body as well. Finally, I'd recommend thinking about the things that would light you up before pregnancy or childbirth. Was it a particular show? Painting? Yoga? Romance novels? Whatever it was, give yourself small chunks throughout the week to visit with that favorite pastime.  
What can we learn from all of the above beyond the pandemic?
Absolutely without a doubt, the importance and incredible value of a strong community and network. Having digital events to attend has opened my world and creative life in ways I never thought were possible for me.It's enabled me to meet and connect with women from across the globe that I probably wouldn't have spent time getting to know if I had easy access to all of my friends locally. Our family has always been important to us, but this pandemic kept us apart for some time and now we have started spending time with our parents again and we've just never felt more grateful. This pandemic, while it's distanced us in many ways and shaken us, it's also brought us closer. It's made me realize what's possible and what's important.